olloclip Introduces Studio:vThe Complete Mobile Photography Solution – A Protective Case Combined with Integrated Mountable Accessories for the iPhone 6 Family
A compact and versatile system for simply and easily capturing photos and video on iPhone 
Huntington Beach, Calif. – January 6, 2016 —
(CES booth #6319 and Pepcom Digital Experience! ) 
olloclip
®, a pioneer in mobile photography, has once again taken the field in a new direction with the introduction of 
Studio
 – an integrated mobile photography solution for the iPhone 6/6s or 6/6s Plus that combines an all-new protective case design with an integrated rail-mounting solution (patent pending) and a series of mountable accessories."When designing the Studio system, we realized the user experience and application needed to be as simple and efficient as our lenses.  The end result is the most intuitive and effortless way to grip an iPhone while filming and shooting photos, enabling users to be more immersed in the capture process than ever before," said Patrick O'Neill, founder and chief design officer of olloclip. "The new set of accessories and mounts are not only great for taking photos and shooting video, but also for new broadcasting applications like Twitter's Periscope and social media favorites like Instagram, Facebook and Snapchat."
At the core of Studio is the new Studio Case—beautiful as a stand-alone case and also the most protective design olloclip has developed to date.  Built to withstand most accidental drops, it also includes an innovative rail-mounting system that can be used for any of the Studio line of accessories.
olloclip's Studio includes an accessory kit comprised of a variety of mountable solutions:
Finger Grip – a versatile and ingenious two-finger grip. Great for increased stability while taking photos, filming video or broadcasting with apps like Snapchat or Periscope. It en­ables the photographer to quickly change from portrait to land­scape orientation without even thinking about it.
1/4-20 Mounts (two included) – to attach a tripod, grip or handles. Includes mounts for both landscape and portrait orientation.
Cold-Shoe Adapters (two included) – to attach lightweight accessories, like a microphone or light, in a snap. The shoe was designed to offset the center of gravity of the accessory, so it's directly in line with the iPhone's centerline, thus creating a more bal­anced experience when attaching multiple accessories.
Kickstand – a new stand attachment for browsing the web, watching a movie or reading your favorite book or blog.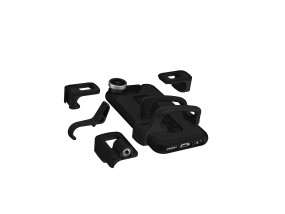 The case and accessories are designed as an integrated and complete system. Unlike many of today's modular mobile grip systems, Studio's components work seamlessly together, so photographers can focus on quickly capturing the opportunity in front of them and not on building a rig.
Like all olloclip's products, the Studio was designed in Southern California and developed with an active lifestyle in mind.
olloclip's Studio is designed for both an iPhone 6/6s and iPhone 6/6s Plus in black/black for $89.99. It will be available on http://www.olloclip.com in January 2016 and in key retailers worldwide shortly after.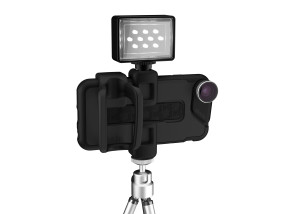 About olloclip
The olloclip® brand is synonymous with creativity in one's pocket. With olloclip products, amateur and professional photographers alike can capture and share life experiences, more easily, spontaneously and artistically than ever before. A person's mobile phone becomes a window to the world—and mobile photography and videography enter a whole new realm of possibility. For more information, visit olloclip.com.